CCI Primers are continuously tested and improved. As a result, today's CCI primers are more sensitive, easier to seat, and more compatible with progressive and automated loading equipment than ever before. They utilize modern non-corrosive and non-mercuric initiator mixes for the cleanest burn possible.
small rifle primers in stock
These are the "bread-and-butter" of reloading, the most commonly called-for primers in reloading recipes. CCI standard primers are remarkably clean-burning, leaving primer pockets cleaner and extending the time between pocket cleaning. That's a huge benefit for progressive reloaders. They are more sensitive and easier to seat than older CCI primers and engineered for smooth feeding in automated equipment.
small rifle primers in stock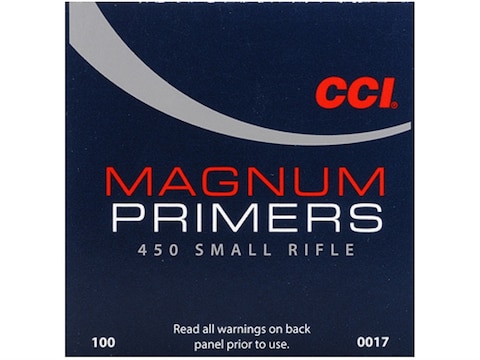 The CCI 450 Small Rifle Primers is a pack of 1000 percussion caps used to reload magnum small rifle cartridges. Magnum primers are intended for large-capacity cases, very low temperatures, and/or ball propellants. CCI primers utilize non-corrosive and non-mercuric initiator mixes selected for their clean-burning characteristics. All CCI primers have a larger anvil area to compensate for firearms that may have an off-center firing pin and are engineered to enable smooth feeding in automated reloading equipment.
small rifle primers in stock