CCI Primers
are continuously tested and improved. As a result, today's
CCI
primers are more sensitive, easier to seat, and more compatible with progressive and automated loading equipment than ever before. They utilize modern non-corrosive and non-mercuric initiator mixes for the cleanest burn possible.
CCI small rifle primers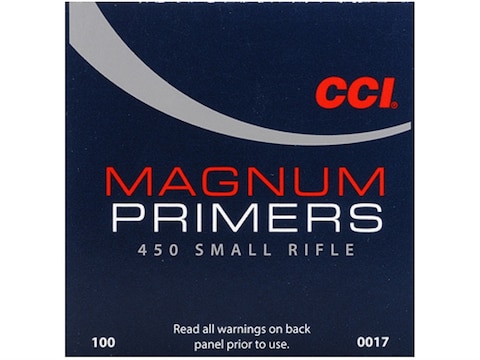 These are the most commonly used primers in reloading recipes, and they are the "bread and butter" of reloading. CCI standard primers burn exceptionally cleanly, leaving primer pockets cleaner and allowing you to go longer between pocket cleanings. This is a huge advantage for progressive reloaders. They are more sensitive and easier to seat than older CCI primers, and they are designed to feed smoothly through automated equipment.
CCI small rifle primers
Magnum primers for ball propellants, CCI No. 450 Mag Small Rifle Primers.
These are the most commonly used primers in reloading recipes, and they are the "bread and butter" of reloading. CCI standard primers burn exceptionally cleanly, leaving primer pockets cleaner and allowing you to go longer between pocket cleanings. This is a huge advantage for progressive reloaders. They are more sensitive and easier to seat than older CCI primers, and they are designed to feed smoothly in automated equipment.
Increase the amount of heat and ignition power.
In the harshest hunting conditions, the flame to light propellants is 20% hotter.
There is no loss of sensitivity.
100 pieces per box